This is my first time linking up with the adorable Kacey from Doodle Bugs Teaching for her Five for Friday linky. Kinda crazy, I know. Here goes nothing!
We started decomposing numbers (up to 5) this week. The kids used dot stickers and this freebie from Rowdy in Room 300 to show different combinations for 3, 4 and 5. They loved it!
I'm in the process of revamping my block/construction center. This is the first year I've worked in a district where play is actually encouraged so I'm learning as I go when it comes to these types of centers. A few of my girls built this wall for their animals. I asked one what the ramp was for and she said "It's for the penguins to slide down, duh!" :)
School pictures came in this week...I'm actually happy with mine! The photographer (a cute little man around 60) immediately started primping me when I sat down. When I told him thank you he responded with "I've been doing this for 20 years, I know how you ladies are about your pictures!" He meant in a nice way--and he was totally right!
My class is participating in a gingerbread man exchange organized by PAWSitively Teaching. We decorated ours this week. I don't know who is more excited about getting the gingerbread men in the mail- me or the kids!
And last but not least...I'm only a few months into the TpT creating business. It is HARD! Well, for me it is because I have lots of ideas in my head but struggle with getting them onto the screen. I did post a freebie recently and got this sweet feedback. Y'all, these 11 little words may not seem like much but they made my day!
Link up with Doodle Bugs Teaching for Five for Friday (on a Thursday no less!) -- check! Now it's your turn. Click the button to go link up!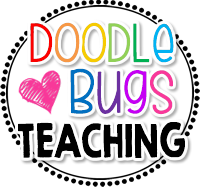 Thanksgiving is right around the corner y'all, we can do this! Have a happy Friday!